West Zone concessionaire Maynilad Water Services, Inc. (Maynilad) will be investing Php5.7 billion for the construction of five NEW WATER Treatment Plants in four cities up to 2027. "NEW WATER" is potable water supply sourced from used water that went through additional treatment processes to become drinkable.
Maynilad currently produces 5 million liters per day (MLD) of NEW WATER from its Parañaque NEW WATER Treatment Plant, which serves almost 13,000 customers in Barangays San Isidro and San Dionisio in Parañaque City. Following the successful run of its initial foray into "potable water reuse" with the Department of Health's grant of a permanent operational permit for this facility, Maynilad is now constructing similar NEW WATER Treatment Plants in Pasay, Valenzuela and Muntinlupa, and expanding the capacity of its existing one in Parañaque.
Once operational, all five NEW WATER treatment plants will have a total combined capacity of 97 MLD, which is enough to supply the water needs of almost 400,000 customers.
Of the four facilities still under construction, the one in Valenzuela is expected to start operations within 2023, producing 1 MLD of additional water supply to help ease the impact of El Niño.
Maynilad is moving towards potable water reuse in a bid to boost available supplies given the growing demand for water, as well as the strain on existing raw water sources due to the impact of climate change. This is also in support of a circular economy in the Philippines.
"Treated used water is a sustainable source of raw water supply, so Maynilad endeavored to include this among its alternate sources so we can eventually reduce reliance on traditional sources," said Maynilad President and CEO Ramoncito S. Fernandez.
Maynilad is the largest private water concessionaire in the Philippines in terms of customer base. It is the concessionaire of the Metropolitan Waterworks and Sewerage System (MWSS) for the West Zone of the Greater Manila Area, which is composed of the cities of Manila (certain portions), Quezon City (certain portions), Makati (west of South Super Highway), Caloocan, Pasay, Parañaque, Las Piñas, Muntinlupa, Valenzuela, Navotas and Malabon all in Metro Manila; the cities of Cavite, Bacoor and Imus, and the towns of Kawit, Noveleta and Rosario, all in Cavite Province.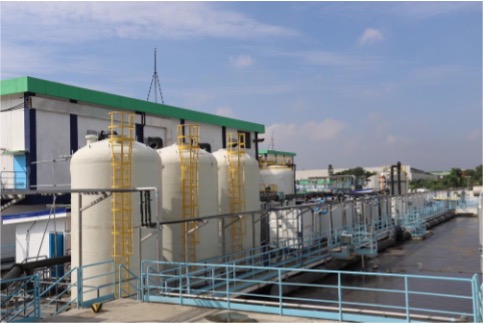 CAPTION: Photo shows Maynilad's first "potable water reuse" facility, the NEW WATER Treatment Plant in Parañaque City. Maynilad is investing Php5.7 billion for the construction of five NEW WATER Treatment Plants in the next five years to expand its production of potable water supply from this alternate, sustainable raw water source.
# # #
Date of Release: August 1, 2023
For more information, contact:
Marie Antonette H. De Ocampo Jennifer C. Rufo
Head, Corporate Affairs and Communication Head, Corporate Communications